Research in the academic and diagnostic setting
Dr. Arianne Brandsma, Sanquin – The Netherlands
During this career workshop, Arianne would like to share her experiences as a PhD student, as a postdoctoral researcher and as a laboratory specialist medical immunology in training. After graduating from the I&I master, she started a PhD at the Center for Translational Immunology at UMC Utrecht working on antibody therapy for cancer and Fc receptor biology. After 4,5 years she obtained he PhD and moved to a postdoc position at the newly opened Princess Máxima Center for pediatric oncology. Here, she joined a group that combined wet-lab research with bioinformatics ('dry-lab') to study mutation accumulation in hematopoietic stem cells. After 3 years working there, she felt it was time for the next step and applied for a position as laboratory specialist medical immunology in training at Sanquin, Amsterdam. Here, she works at the immunogenetics department / HLA-lab that performs diagnostic testing for patients needing a transplantation, such as kidney or hematopoietic stem cell transplantation. As a laboratory specialist, you are responsible for the diagnostic tests performed, keeping techniques and tests updated with the newest developments and guidelines, but also to give advice to the clinic based on the lab results. Since she has worked in academia for several years, and is now working in a clinical/diagnostic setting, she hopes to give you a broad overview of possibilities and choices you can make after your I&I master.
Science communication: How to make the lab life sound as cool as it really is
Alex Cloherty, PhD candidate, Amsterdam UMC – The Netherlands
Talking to non-experts is a different experience than discussing science with other scientists, and it requires some different skills. Have you ever felt stuck or lost for words when trying to communicate what exactly it is that you do in the lab all day to your parents, partner, or friends? Did you ever get a blank stare in response to your explanation of what you do in the lab all day? Or perhaps you would like to start a popular science blog, podcast, or Instagram page, but you're not sure how to begin. If any of these scenarios sound familiar, this workshop is the one for you. Alex Cloherty, an award-winning science communicator, PhD student, and I&I alumna, will guide you in turning a detailed (or perhaps even dry) explanation into an engaging scientific story that your audience will be sure to remember.
Note: If you would like to attend this workshop, try to already think of a specific scientific concept or project that you would like to better communicate!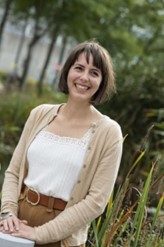 ---
Stressing to study or enjoying the work – How do I get a grip on my happiness?
Chris de Bruin, Hogeschool Utrecht – The Netherlands
Because you will be entering a new phase in your life, there will be new challenges on your path, which can come with yet unknown feelings and insecurities. In this workshop, we will examine how you can prepare yourself for your future. The workshop will be given by Chris de Bruin, psychologist, teacher/coach at the Hogeschool Utrecht, trainer and founder of the De StudieHUiskamer, a project where slow students are being guided to their diploma.
© 2019 I&I Symposium. Alle rechten voorbehouden.