Dengue and antibody-dependent enhancement
Dr. Izabela Rodenhuis-Zybert
Assistant professor at the Experimental Virology Group (EVG) within the Dept. of Medical Microbiology and Infection Prevention at the University Medical Center Groningen. 
Dr. Izabela Rodenhuis-Zybert did her masters in microbiology and infectious diseases at the University of Lodz, Poland, which she interwound with a training in forensic medicine at University of Wolverhampton, UK. In 2005, Izabela started her PhD training in molecular virology at the University of Groningen under the supervision of prof. dr. Jan Wilschut and dr. Jolanda Smit from which she graduated cum laude in 2011. She then followed her passion for immunology but remained devoted to her "favorite" mosquito-borne viruses: dengue and chikungunya. Thanks to funds obtained from inter alia NWO-VENI and ESCMID, she established a new research line within the EVG focusing on mechanisms of inflammation triggered by viral infections. Currently, her team's primary goal is to understand the function of innate receptors in the pathogenesis of dengue virus, chikungunya virus and lately also SARS-CoV-2 infection. 
Microplastics and immunology 
Giulio Giustarini
Postdoctoral Researcher at the UMC Utrecht
Plastic pollution reaches everywhere. The food we eat, the water we drink, and the air we breathe all contain an increasing amount of microplastics. As a result, WHO calls for more investigative studies to better understand the health effects of microplastic pollution under relevant exposure levels. As of yet, the implications on human health remain unresolved, however, early research shows that microplastics are able to interact with our immune system and possibly induce inflammation. Origin, size, shape and environmentally acquired coating may represent important features of microplastics, likely with relevant immunotoxicological effects. 
In his talk, Giulio Giustarini will introduce you to the "universe" of microplastics and you will become acquainted with the potential hazard of their exposure.
Prior to doing his PhD in immunotoxicology in Utrecht, Giulio received his bachelor and master degrees at the University of Pisa, Italy. Currently, as a postdoctoral researcher in the CTI (location WKZ), his work focuses on the effects of microplastics on the immune system using in vitro and in vivo models.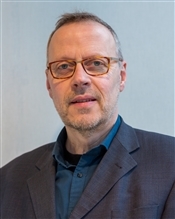 Fungal infections and antifungal resistance, a major challenge
Dr. Hans de Cock
Assistant professor Molecular Microbiology, Dept. of Biology, Utrecht University
Fungal infections kill about 1.5 million people every year, more than tuberculosis or malaria, and their incidence is currently rising worldwide. There are only three classes of antifungal drugs available to treat these infections. Additionally, antifungal resistance is increasing in some of the most common fungal pathogens, such as Candida or Aspergillus species, and is expected to increase for many medically relevant fungal species in the near future. However in comparison to antibiotic resistance, little attention has been given to the growing threat of antifungal resistance. 
In his talk, dr. Hans de cock will address the major treats of fungal infections, especially the rise of antifungal resistance, and discuss the possibilities how to counteract this with development of new antifungal agents. 
Hans de Cock is a professor of Molecular Microbiology with expertise in the field of
pathogenic fungi and pathogen-host interactions. His lab is involved in multiple projects
aiming to unravel the molecular mechanisms of fungal infections and fungal immune evasion
with a focus on Aspergillus infections and the pathobiont Malassezia sp.